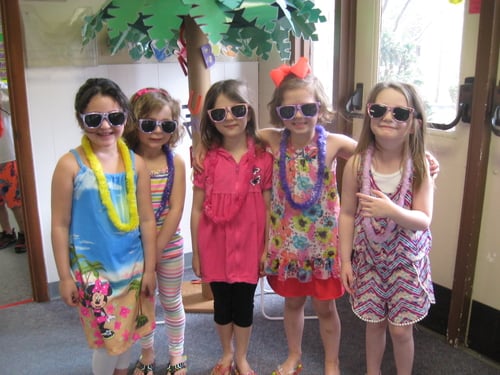 Our Preschool Staff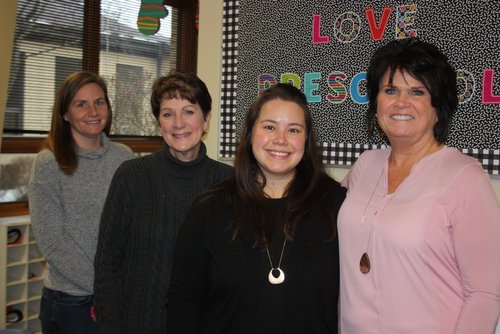 Our Mission and Philosophy
St. Patrick Preschool provides a creative, relaxed, and enriched atmosphere where young children can work, play, and discover.  We strive to provide experiences that foster each child's intellectual, social, physical, emotional, and spiritual growth.  Through a loving, supportive, and Christian environment, we hope to nurture an enthusiasm for learning and a love of God in all our students.
Through preschool, we give opportunities for children to:
build positive, friendly relationships
learn respect and cooperation
develop self-discipline
experiment with a variety of materials and authentic, hands-on learning activities
develop a love of learning
nurture a love of God and His creations
Click here for registration for the 2023-24 school year.
Curriculum
While preparing our students to enter kindergarten as confident young learners, we provide developmentally appropriate activities and social experiences for learners of all styles and levels.
Our preschool program includes activities in  reading and writing, language, math, music and movement, art, science and religion.
Class Times
4 & 5 YEAR OLDS
(AGE 4 BY AUGUST 1)
Mon/Wed/Fri (3-day program)
8:30–11:00 A.M or 12–2:30 P.M.
OR
Mon – Fri (5-day program)
8:30 – 11:00 A.M.
3 & 4 YEAR OLDS
(AGE 3 BY AUGUST 1)
Tuesday/Thursday (2-day program)
8:30–11:00 A.M. or 12 – 2:30 P.M.
To reserve a position in one of our classes, we require $250 deposit.  This non-refundable deposit will be applied toward the Materials Fee, which is equal to one month's tuition.  For more information or to arrange a visit to our school, please contact the school office at 219-926-1707 or contact Mrs. Pam Snow, Preschool Director/Teacher directly at psnow@stpatsparish.org.